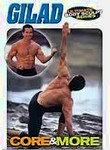 I haven't worked out in ages. Old habits that I knew were ingrained have just fallen by the wayside. Among other excuses, I haven't been able to figure out exactly where I can fit exercise into our new schedule.
Today, I decided to put my preschooler in front of NickJr (when did it stop being Noggin?) for a bit while I worked out to my hero Gilad, and I squeezed in a level of 30-Day Shred before having to basically run through the shower on my way to pick up Son1 from school. I feel great about not making excuses today.
And I'm calling myself out to keep it going.
I'm making it a habit. Especially because there was cake on Fri for G's birthday, and there'll be cake again for E's big day.
image from Netflix